Exeter Library is 18th most visited library in Great Britain
Posted on 18 Dec 2019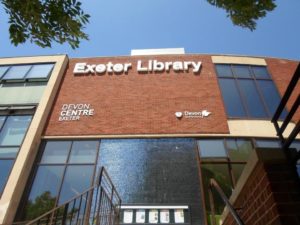 Recently released national public libraries data (from CIPFA) has shown Exeter Library, in Devon, was the 18th most visited library in England, Scotland and Wales in 2018/19 with over half a million visits.  The data also shows that Exeter has the fifth highest level of stock issues in Great Britain – showing people are still loving to take out a book or DVD to enjoy at home – and we love that!
These results mean Exeter Library remains the busiest library in the South West, followed by Bristol Central Library and Taunton Library.
Exeter Library, and Libraries Unlimited, are celebrating these great results which demonstrate the impact of another twelve months of hard work offering customer service and a range of services – including many that library users may be surprised to see!
Centre Manager for Exeter Library, Emily Macaulay, said of this announcement "I am incredibly proud of the staff team here who are dedicated to providing service that makes people feel welcomed and wanting to come back – and people are!  It is important for libraries to continue to offer their core services in terms of supporting vulnerable members of society and free access to information for all but it is also important to be relevant to as many different people as possible and we try to do that in lots of different ways.  At Exeter Library we aim to surprise you every month.  Every month we will have something that you may not have thought could happen in the library.  We've had pop-up barbers, large scale art installations, full scale theatre productions and in February 2020 will be hosting our first "Library Lates".  A chance to experience the library after hours."
Libraries Unlimited is the charity that runs all fifty public libraries in Devon and the four in Torbay and Frances Tout, Service Delivery Manager for Exeter, Teignbridge and East Devon said "These results show clearly that charity run libraries offer a great level of service and experience for library users.  With the 5th highest number of stock issues in Britain we are loaning far more items that a number of bigger cities than Exeter.  Being a charity does enable us to be more independent of local authority austerity measures and to fundraise independently, meaning library users across Devon and Torbay can benefit from even better library services.  If every visit in Exeter last year had donated 2 pence that would be an additional £11,000 going in to running library services".
The CIPFA data is available here.
To donate to Libraries Unlimited and support library services across Devon and Torbay please visit https://www.librariesunlimited.org.uk/support-us/