Exeter Library gears up to support start-ups and entrepreneurs
Posted on 20 Oct 2016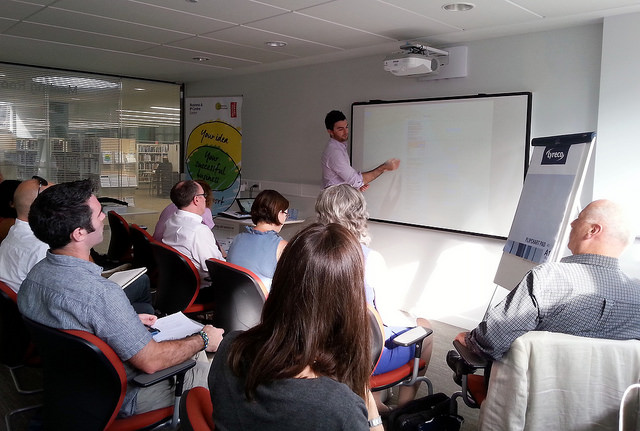 Businesses in Exeter can now get extra support from Exeter Library following its launch as an Intellectual Property (IP) Centre.
The library is the latest to join the UK's network of Patent Libraries (PatLibs), set up by the Government in order to provide assistance on a variety of Intellectual Property Rights.
Qualified and experienced staff at the library will provide local businesses and entrepreneurs with expert practical advice and support access to patent, trade mark, designs and copyright information. They will also run services such as patent searching, IP clinics and general business advice.
The news comes as Exeter Library gets ready to launch the exciting new Business and Intellectual Property (IP) Centre. On 10th November, Exeter Library will officially join the Business and Intellectual Property Centre network.
As a Business and IP Centre, the library will follow a programme and ethos developed by Business and Intellectual Property Centre at the British Library, London, providing support to business owners, entrepreneurs and inventors.
The Centre will provide access to a comprehensive collection of online databases and publications, practical workshops, one-to-one advice sessions and inspiring talks. The trained business champion team, working alongside industry experts, will be on-hand to provide guidance and information on a range of business issues.
The launch takes place on 10th November at 5:30pm in the Rougemont room, at Exeter Library and will see a wide variety of Exeter businesses and professionals come together to celebrate this new offering.
Commenting on the launch, Emily Macaulay, manager of Exeter Library said: "Learning has always been at the heart of what libraries deliver and libraries are increasingly being used as a resource by businesses who want specialist help. This new status as a Business and Intellectual Property Centre will help do that, and libraries are the perfect place to encourage creativity and innovation. Not only can we provide advice, but we will also act as a signposting centre, helping businesses and entrepreneurs to find the right help to nurture their idea."
Pippa Hall, Director of Innovation at the Intellectual Property Office, said: "I'm delighted to welcome Exeter Library to the UK's PatLib Network. The support, advice and information our PatLibs provide is invaluable. They've moved beyond providing reference materials to actively supporting and guiding Britain's innovative and creative entrepreneurs. Exeter is joining a tradition of helping brilliant businesses turn great ideas into growth by protecting and exploiting their IP.
She continued: "Businesses around Exeter can look forward to improved access to specialist advice. It will give them the insight they need to make the most of their IP assets. I look forward to seeing how the Exeter Library team works to boost the IP performance of the local business community."
Exeter Library is one of the 50 libraries across Devon run by Libraries Unlimited, a new and independent staff and community owned, not-for-profit organisation. Ciara Eastell, the Chief Executive of Libraries Unlimited, said: "Intellectual property is vital to developing a business. Knowing how to protect your idea, whether it's an invention or a brand name, can be key to a business overall long-term viability.
She continued: "Now that Exeter Library has joined the UK's network of Patent Libraries (PatLibs) and the Business and IP Centre has officially launched, we are proud to be providing local businesses, start-ups and entrepreneurs with expert advice and support on business and IP-related issues."
As part of the celebrations, Exeter Library Business and IP Centre is offering start-ups the chance to win a £500 support package in their Itch-to-Pitch competition. The competition offers three companies the chance to showcase their ideas to the Exeter business community at the Business & IP Centre launch.
To enter, simply tweet @BIPCExeter with a compelling 140-character synopsis of what you do. The closing date for tweet entries is 9am on the 24th of October 2016. The three successful businesses selected to pitch will be announced on 24th of October 2016.
Businesses can find out how to access intellectual property in Exeter Business & Intellectual Property Centre at https://www.librariesunlimited.org.uk/services.
To add your name to the launch guest list, email Chandni Dattani on chandni.dattani@bl.uk