Exeter Library extends programme of activities and events thanks to nationwide network
Posted on 05 Oct 2016
Events from the British Library including a conversation with Devon a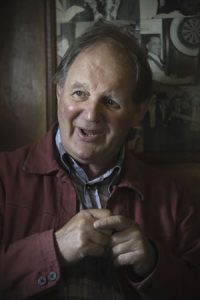 uthor Michael Morpurgo will be live streamed to an audience in Exeter thanks to a ground-breaking national partnership.
Exeter Library is one of 21 public libraries across the country to join the Living Knowledge Network, connecting with the British Library and the national libraries of Scotland and Wales.
The network, funded by the Arts Council and the British Library for an initial two years, will provide library users with the opportunity to enjoy a more diverse range of library services as well as live-streamed events and touring exhibitions.
Ciara Eastell, Chief Executive of Libraries Unlimited, the social enterprise which is responsible for running Devon's libraries, said: "This nationwide initiative means users of Exeter Library will benefit from the combined knowledge and expertise of staff from across the country. Member libraries will be able to collaborate on programmes, activities and content, as well as working together on funding programmes.
"A number of exciting projects are already being planned by the network which will really benefit the people of Exeter and beyond."
Among the events already being lined up is a live-stream of Devon-based author Michael Morpurgo in conversation with writer and broadcaster Nicolette Jones.
Mr Morpurgo is the author of more than 130 books, including War Horse which was made into a Hollywood blockbuster, Private Peaceful and Kensuke's Kingdom. The discussion Afraid of the Dark? Michael Morpurgo in conversation, is being held at the British Library in partnership with the Royal Society of Literature on Thursday, 1st December between 7 and 8pm.
The discussion will consider whether children should be exposed to suffering, why it is important to pass on history to children, and how children can be encouraged to read and write.
Roly Keating, Chief Executive of the British Library said: "At the heart of the Living Knowledge Network is a simple aspiration: to create value by sharing ideas and sparking connections between libraries, collections and people across the UK."
Among the other libraries participating in the network are the National Library of Scotland in Edinburgh, the National Library of Wales in Aberystwyth, and those from Manchester, Birmingham, Liverpool, Sheffield, Leeds and Belfast.
To find out more about the events and activities on offer, visit Exeter Library