English Tourism Week: The Year of Literary Heroes
Posted on 28 Mar 2017
Blog by Cheryl Marshall, Centre Manager, Passmore Edwards Centre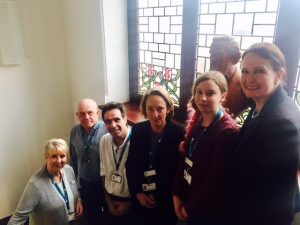 To celebrate this year's English Tourism Week, staff at the Passmore Edwards Centre were pleased to welcome local MP, Anne Marie Morris, the elected Member of Parliament for Newton Abbot.
With the theme of 2017's English Tourism Week being the 'Year of the Literary Heroes', Anne Marie Morris MP, decided to highlight and celebrate the work of British journalist, newspaper owner and philanthropist, John Passmore Edwards, with a visit to the Passmore Edwards Centre and a tour of the historic building.
John Passmore Edwards, whose mother came from Newton Abbot, was a lifelong champion of the working classes. After several years as a journalist and political activist, he established a foundation which funded a number of libraries and educational institutions. Over the space of 14 years, he gifted and bequeathed 70 major buildings to communities across the UK.
The buildings included schools, galleries and hospitals, as well as 24 libraries, many of which are still open today.  One such library was The Passmore Edwards Centre which opened in 1904. It was home to over 5,000 books including some donated by the British Museum, and had 1,461 borrowers in its first year.
The Grade II Listed Centre re-opened in June 2012 following extensive renovation and an extension that blended the old with the new. The interior today is light, bright and flexible so that it can be used for many different activities.
Run by Libraries Unlimited, the building continues to be a focal point for the local community and visitors to the area, enriching people's lives with a wealth of information. The Centre offers a range of activities and events for people of all ages and is now home to more than 25,000 items of stock, including books, DVDs, CDs and audiobooks. The number of visits recorded per year is around 165,000 with average monthly visits of just under 14,000.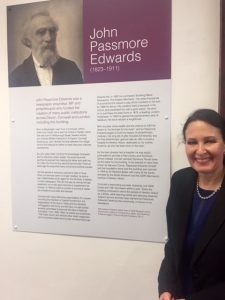 As well as the variety of books and other resources, visitors to the area enjoy the Centre's Café and relaxing in the courtyard, while community organisations and commercial companies can hire the Centre's rooms for events and meetings.
The Centre also continues to be the home of the town's library and adult education centre, which includes the UK's second largest collection of railway studies materials outside York's National Railway Museum. This special collection has around 80,000 items, including books, magazines and periodicals, photographs and illustrations.
Anne Marie Morris has been the elected Member of Parliament for Newton Abbot since 2010, championing local issues and issues related to health and social care.
Anne Marie Morris MP said: "We are extremely fortunate to have such a vibrant and comprehensive centre for learning, meeting and reading here in Newton Abbot.  The Passmore Edwards Centre is not only a beautiful building, but a hub of our community, and the staff work tirelessly to ensure all users enjoy a friendly and relaxed environment. I would like to take this opportunity during English Tourism Week to thank the staff for all their hard work catering not only to locals, but to the visitors who enjoy the nationally important Railway Studies Collection. I'm looking forward to seeing their continued success for many years to come!"