Donation from Tesco will create a new reading scheme
Posted on 05 Mar 2020
Devon shoppers have voted for Libraries Unlimited to receive a £10,000 Tesco Centenary Grant.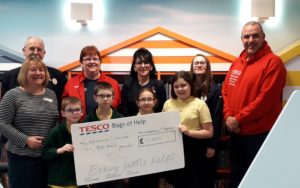 In celebration of Tesco's Centenary, the supermarket has teamed up with Groundwork to deliver two special Bags of Help funding rounds, with a £100,000 funding pot in Devon.
The community funding scheme supports community groups and charities to deliver projects that have a positive impact on communities. In third place, Libraries Unlimited has been awarded £10,000.
The donation will be used to create a free activity that helps children to become happy, confident readers, so they can do better at school and improve their life chances.
Kate Mackenzie, Service Development Manager at Libraries Unlimited, said: "We're thrilled to receive this grant from Tesco and would like to thank Tesco and their customers for choosing and supporting us. This donation will enable us to refresh our existing reading schemes to create an exciting new scheme which is relevant for today's children. Our new reading activity will make reading fun and rewarding for children over five. We'll be working with young people, schools, parents and carers to create the new scheme.
Kate continued: "As a charity, we're continually developing what we do and how we connect with our local communities. We know that embedding a love of reading in children is important to children's academic success, helps with their wellbeing later in life and improves self-esteem. We want Devon and Torbay to be leading the way in literacy levels, and this new reading initiative will help us to engage with children across the county."