Devon libraries give away free sticker storybooks to children aged 2-4
Posted on 25 Nov 2016
Libraries across Devon are giving families yet another reason to schedule in a visit to their local library by offering a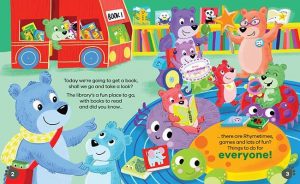 free sticker storybook to children throughout the county.
Delivered by Libraries Unlimited in collaboration with the Book Trust, the free sticker storybook titled 'Bear's Reading Adventure' provides another great incentive for children and families to engage with their local library.
Bear's Reading Adventure is aimed at children aged from two to four and encourages families to make return trips to their local libraries by offering children the chance to collect stickers each time they visit.
Developed by the Book Trust and Igloo Books, Bear's Reading Adventure follows the story of the Book Trust blue bear mascot and his reading adventure, but readers will quickly notice that objects are missing from the story. Every time a missing object is noted, children can go into their library to collect the sticker that completes the story.
Upon collecting all ten stickers and completing the story, children will receive a certificate to celebrate their success.
Working in partnership with the Book Trust, Devon County Council and local children's charities, Libraries Unlimited aim to inspire a love of reading within families and young children through providing incentives like Bear's Reading Adventure.
The partnership also supports libraries across Devon to run Bounce and Rhyme sessions, story time and craft events and National Bookstart Week events.
As a result of effective partnership working, approximately a quarter of a million pounds' worth of reading resources are gifted to over 15,000 children in Devon each year, including gifting free book packs to babies and pre-school children and dual language books to hundreds of families across the county.
The partnership also supports families in need by gifting books through foodbanks, hospitals, prisons, refuges and domestic violence teams and Homestart volunteers.
Click here to find out more about Bear's Reading Challenge. Follow Libraries Unlimited on Facebook or Twitter @LibrariesUnLtd