Children's Christmas Reading Challenge launched as results from Summer Reading Challenge are revealed
Posted on 25 Nov 2016
As the results from Devon's Summer Reading Challenge are revealed, the Christmas Mini-Challenge begins, inviting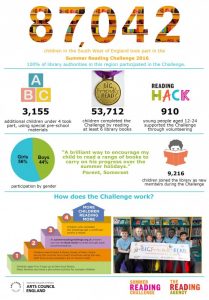 children across the county to read three books over their Christmas holidays.
More than 11,000 children across Devon took part in the annual Summer Reading Challenge, a national initiative that challenges children to read at least six books during the school holidays.
Now children are being encouraged to take up the Christmas Mini-Challenge and read three books of their choice from a local library in return for milestone rewards. The challenge runs online from Monday 12th December 2016 to Friday 6th January 2017. To take part children are asked to create a profile on the Summer Reading Challenge website and log their reading achievements over the Christmas holidays. Upon completion, children will be awarded with a virtual badge, reward video and a certificate.
Organised by The Reading Agency, both challenges are designed to encourage children and their families to visit their local library and continue reading for enjoyment. Libraries Unlimited deliver the programmes throughout Devon, ensuring libraries across the county help children in their communities to keep up the reading habit during school holidays.
The theme of the Summer Reading Challenge was 'The Big Friendly Read', celebrating 100 years since the birth of the world's favourite storyteller, Roald Dahl, and featured the iconic illustrations of Quentin Blake. This year's challenge saw 755,208 children participating in the UK, comprising 643,280 children in England (including 87,042 in the south west), 39,222 children in Wales, and 43,486 children in Scotland.
During the build-up to the summer challenge, library staff visited 141 primary schools across Devon, promoting the Challenge and helping children to understand the value of their local library and the opportunities available within them.
Libraries across Devon held a combined 262 events, including a launch event at Devon's Crealy Adventure Park, and more than 6,500 children attended events within Devon's libraries.
Ciara Eastell, Chief Executive of Libraries Unlimited, the charity responsible for the running of Devon's libraries, said: "These reading challenges provide us with a fantastic opportunity to reach out to our local communities and see children become engaged with their library from a young age. This year's Summer Reading Challenge was really successful and we are happy to report that over 600 children joined their local library to take part and more than 175,000 children's books were borrowed through the summer holidays."
She continued: "Raising awareness of the Summer Reading Challenge takes a lot of work and I would like to thank schools across Devon; all of our wonderful library staff; our Friends Groups who supported summer events in libraries and the 150 enthusiastic young volunteers who worked a total of 1,422 hours to see the events come together. This is a great example of communities coming together to support children and families to read together over the summer break.
"The Christmas Mini-Challenge is another great chance for children and families to fall back in love with reading. It would be fantastic to see even more children take part in this challenge over the Christmas period. National research shows that children's reading abilities tends to drop over the school holidays, by working together, we are enabling children across Devon to retain the reading habit and to sustain their educational attainment."
Sue Wilkinson, Chief Executive, The Reading Agency says: "We are delighted that, once again, more than seven hundred thousand children took part in the Summer Reading Challenge at libraries across the UK. This year's figures are slightly lower than last year's, but at a challenging time for library services this is an impressive result. We are looking forward to working with our library partners in 2017 to ensure that the Summer Reading Challenge continues to be an exciting way to keep children reading, via their local library, over the summer holidays."
Janene Cox, Executive Member at the Society of Chief Librarians (SCL) says: "The Summer Reading Challenge is an incredibly important programme for Libraries and it enables our workforce to do what they do best: encourage and inspire children to read for pleasure. We are incredibly pleased with this year's results and we are looking forward to working with The Reading Agency to ensure that the Challenge remains an exciting and enjoyable part of libraries' reading activity going forward"