Chief Executive of Libraries Unlimited named in New Year Honours list
Posted on 02 Jan 2017
Ciara Eastell, Chief Executive of Libraries Unlimited has been named in the Queen's New Year Honours list for her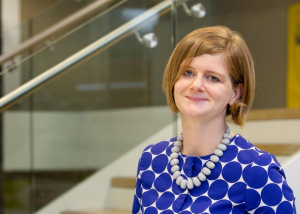 services to public libraries.
Ciara, who heads up the new charity that is responsible for all of Devon's library services, was awarded the honour for her national contribution to public libraries as the President of the Society of Chief Librarians (SCL), a voluntary role she held for two years until June 2016.
Ciara said: "It is an honour and a privilege to be awarded an OBE. It is also a recognition of the hard work and commitment of the people I have worked with both at SCL and at Libraries Unlimited, who are all helping to ensure a sustainable future for public libraries.
My time as President of the Society of Chief Librarians was incredibly enjoyable and rewarding.  Seeing the opportunities and challenges facing library services across the country was very useful for my role in Devon in setting up and running Libraries Unlimited. I feel very fortunate to have been given the chance to play a part in the ongoing evolution of library services and look forward to what the future holds, here in Devon and across the rest of the country."
Ciara has over 20 years' experience working in libraries across the country and has been leading Devon's library service for the past 8 years.  In her time as President, Ciara was a member of the national Leadership for Libraries Taskforce; a member of the British Library's Advisory Council and led SCL's work on developing the Universal Offers, a series of offers around reading, health, digital, information and learning aimed at encouraging more library use within local communities.