Case Study: Volunteer at Torrington Library – Zuzanna Jankowska
Posted on 12 Aug 2019
Zuzanna Jankowska has been a Young Volunteer at Torrington Library for over 3 years and Libraries Unlimited interviewed Zuzanna to find out more about her volunteering and what she gained from the experience.  Her experience may even inspire you to volunteer at your local library!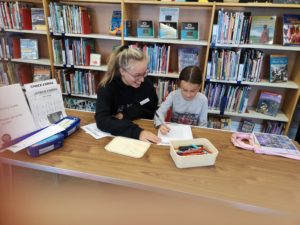 1.       What inspired you to start volunteering at Torrington Library?
I really like to read books, so I felt like I wanted to get involved in something to do with them. I thought it'd be a very beneficial opportunity for me, because I'd gain many new experiences and I'd also help the community. This motivated me to take part and encouraged me to share my passion with lots of different individuals and children. I think it's really important to encourage children to read from such a young age, because it really helps them with their learning as they gain lots of new vocabulary. Reading is also a very calming hobby to have.
2.       How long have you been a volunteer at Torrington Library?
I started volunteering at the end of year 9, so I've been volunteering for around three and a half years. It's been a long time, but I've enjoyed every moment of it! It's an amazing experience to have and this time has made me feel like a part of something big.
3.       How often do you volunteer in the library?
I usually volunteer every Saturday, leading the craft activities (which varies from sticking and cutting to colouring or origami) and taking part in the usual library responsibilities. These responsibilities include shelving books, doing shelf-checks and keeping the activity space clean. Occasionally during half-term, I also help out on a Tuesday or Thursday if there's a big craft activity happening. It's always great to see the faces of children who come in regularly, as I can see that they're encouraged to not only read books but develop their creative side.
4.       What projects have you worked on during your time as a volunteer? 
I've worked on a couple of projects including the Summer Reading Challenge, Book Track and Saturday craft activities. They've all been incredibly interesting to do and I've had the chance to work with a range of different people and children.
Book Track involves talking to children about the books they've read. I find it's very encouraging for younger children, because they get badges as they read more books and a medal when they read 100 books.
I think the Summer Reading Challenge is also very encouraging for children, because it creates an interactive challenge for them, which of course motivates them to read more books.
Volunteering at the library has been fascinating, because I've developed many new skills whilst doing it and have also greatly boosted my confidence.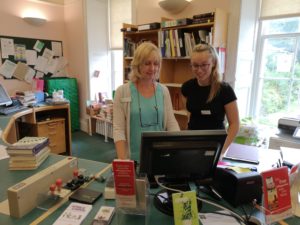 5.       What have you enjoyed about volunteering in the library?
I've enjoyed everything about volunteering, however some of the most significant things include the communication I have with people. Everyone is incredibly friendly and it's always great to see a new face joining the library. The feeling that I'm helping my community also encourages me to be enthusiastic and friendly to everyone I meet. I also love listening to children who have a great passion for some of the stories they read, which makes me feel happy for them as they've found something to give them a new sense of happiness or excitement.
6.       What has been valuable about your volunteering?
I think my volunteering has definitely helped lots of the people that come to the library, because they have someone to talk to and ask questions. It has probably helped the library, because I believe my volunteering eases their workload. I can be a cheerful individual who can keep everything neat and tidy, whilst bringing a good atmosphere to the library.
Volunteering at the library has been helpful to me personally.  I've met so many friendly people at the library which is always a pleasure.  The communications and conversations that I have with people also makes me feel more relaxed and confident, as part of the community.  I also think that volunteering has helped me gain many skills that will be useful to me in the future when I'm applying for a job or to go to university.  My communication skills have definitely improved as well as my time-management and self-confidence.
7.       What would you say to other young people to encourage them to volunteer in a library?
It's a very rewarding role and the feeling one has when volunteering is also an amazing one. You meet many new people, which is beneficial in creating new bonds, and it's a very relaxing place to be in, because all the staff are very friendly people. If you love to read, then this is the best place to spend your days, because you're surrounded by books. I found that when I started volunteering I managed to discover many new types and genres of books that I wouldn't have even looked at before, so it's a great way to vary your tastes.
8.       What are your future plans? 
After I finish college, in 2020, I plan to go to university to study neuroscience in Bristol. I think it will be really interesting and the volunteering role in the library has really driven me towards this degree, because I've observed the people I work around. It's great! Another plan could be to look at child development, which is an idea that actually came from my time in the library. Doing Book Track has really highlighted how many children are different and caused me to wonder why this is. So, volunteering at a library could influence your future plans and I really recommend that people try it!
If you are aged 14-18 years old and would like to sign up as a Young Volunteer you can contact your local library directly or email volunteer@librariesunlimited.org.uk.
Full library list can be found at:
Devon Libraries   https://www.devonlibraries.org.uk/web/arena/ourlibraries  
Torbay Libraries  www.torbaylibraries.org.uk/
This is an opportunity to gain work experience, learn new skills, meet new people and add valuable experience to your CV.  It may even influence your future plans!