Business & Intellectual Property Centre at Exeter Library now open for business as Letter Box Hamper crowned winner of Itch to Pitch
Posted on 14 Nov 2016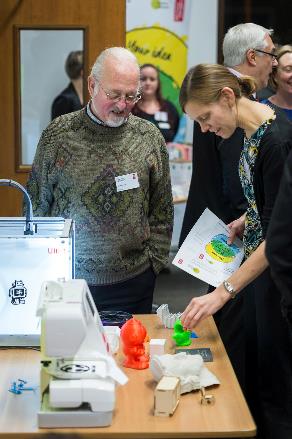 Entrepreneurs and businesses in Exeter can now get extra support from Exeter Library with the launch of a unique new service designed to enable people to protect, research and commercialise their ideas.
The new Business & Intellectual Property (IP) Centre in Exeter Library is one of ten centres across the UK. It is modelled on the successful British Library Business & IP Centre in London and allows entrepreneurs to take advantage of free intellectual property and business information and expertise.
Since Exeter Library reopened in May 2014, it has supported nearly 1,000 business owners and entrepreneurs, of which 47% are owned by women, 31% by young people aged 16-35 and 13% had previously been unemployed (before starting a business). 21% of those users are from the creative industries and can take advantage of Exeter Library's 'Fab Lab', the only digital fabrication laboratory in a UK public library.
With the help of the Business & IP Centre, entrepreneurs can improve their chances of success by researching their idea for a product, learning how to protect it and making a prototype all under one roof.
The Business & IP Centre model has proven successful in helping businesses thrive and survive. An independent report found only one in ten companies helped by the London Business & IP Centre fails after year three, compared with four in ten across the UK.
The Business & IP Centre in Exeter officially launched on 10th November, with an array of well-known business people, entrepreneurs and start-ups attending a packed event to learn about what facilities and services are on offer.
Three businesses were also invited to pitch their business ideas in the Itch to Pitch competition to win a £500 support package.
Guests at the launch named Johnny Winfield from Letter Box Hamper the winner, beating Chris Hunt from Controlled Frenzy and Katharine Bourke from the South West Growth Company. Johnny is the founder of Letter Box Hamper, selling personalised and luxury hampers full of British food and drink, beautifully wrapped and sent through the post with Letter Box delivery.
Johnny said: "It's great to have been recognised by everyone at the Business & IP Centre launch event as a growing and successful business and to win this free support package. We have worked hard to establish ourselves in the industry, and having a bit of extra business support from the Centre will enable us to continue growing and exploring new business ideas. We're really excited about what the next year will bring!"
The Business & IP Centre adds to the wealth of business support already provided within the city.  The Centre provides access to business databases, market research reports, company data, and information on patents, trademarks, designs and copyright. Qualified and experienced staff at the library are geared up to provide local businesses and entrepreneurs with Patent Clinics, monthly meetings and one-to-one advice.  The Centre will also work with local partners to deliver workshops and events and to refer people to relevant local business support services.
Councillor Roger Croad, Devon County Council's Cabinet Member with responsibility for Community and Environmental Services, said: "We have commissioned Libraries Unlimited to provide a wide range of services that support individuals and communities across the county in new and entrepreneurial ways.
He continued: "I'm thrilled that Libraries Unlimited has added the Business & Intellectual Property Centre (BIPC) to its portfolio of services and am looking forward to hearing how the Centre can continue to grow its role in supporting business development across the county.  Intellectual property is vital to developing a business.  Knowing how to protect your idea can save you a lot of time and money.  Now Exeter Library is the latest of 10 such centres in the UK so far, it will provide local businesses and entrepreneurs with expert advice and support on IP-related issues."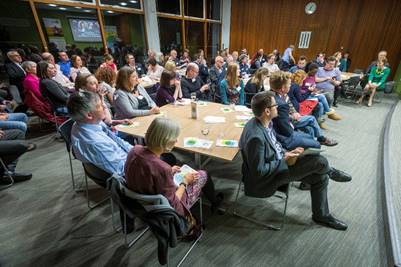 The first British Library Business & IP Centre opened in London in 2006. Since then it has helped more than 500,000 entrepreneurs and helped create an average of 550 businesses and 1,200 jobs every year.
Based on a successful pilot in Newcastle, the Library is expanding its national network. The network has been part-funded through the Department for Communities & Local Government and Arts Council England 'Enterprising Libraries' programme which is transforming libraries into enterprise hubs in their local communities.
Roly Keating, Chief Executive of the British Library said: "The success of the Business & IP Centre model is evidence of the strong connection between libraries and business, and I'm thrilled to see this link reinforced again with the opening of a new Centre for entrepreneurs and small businesses in Exeter Library.
He continued: "Our vision is to create 20 such Business & IP Centres by the end of the decade, and I look forward to working with our city library partners to achieve this goal and to spearhead business growth and innovation in cities across the UK."
Commenting on the launch, Emily Macaulay, manager of Exeter Library said: "Learning has always been at the heart of what libraries deliver and libraries are increasingly being used as a resource by businesses who want specialist help. The Business & IP Centre will help us to support the thriving local business community and offer practical advice and support. We want to help people turn their ideas into reality, and have already seen many people come through the doors to see what we have to offer. It's a very exciting time for us and we really look forward to getting to know more of the local business community."
Exeter Library is one of the 50 libraries across Devon run by Libraries Unlimited, a new and independent staff and community-owned organisation commissioned by Devon County Council. Ciara Eastell, the Chief Executive of Libraries Unlimited, said: "Intellectual property is vital to developing a business. Knowing how to protect your idea, whether it's an invention or a brand name, can be key to a business' overall long-term viability.
She continued: "Now that the Business & IP Centre at Exeter Library has officially launched, we are proud to be providing local businesses, start-ups and entrepreneurs with expert advice and support."
 Find out more about the services on offer https://bipc.librariesunlimited.org.uk or follow Exeter Business & IP Centre on Twitter @BIPCExeter