Business events set to inspire entrepreneurial spirit and create sales sensations
Posted on 02 Feb 2017
Exeter Library's Business and Intellectual Property (IP) Centre is gearing up to host two inspiring business events on Tuesday 7th February, led by well-known entrepreneurs and sales experts.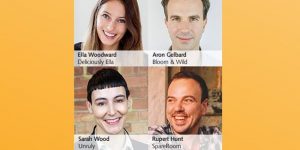 First up, professional sales coach and respected business advisor Alison Edgar will lead a session entitled 'Go from zero to sales hero with the four pillars of selling'. The session will introduce attendees to the four key elements all businesses need in order to increase sales and grow their business.
Alison, who is known as 'The Entrepreneur's Godmother', has been recognised as one of the UK's top 10 business advisors and was invited to attend the Queen's Royal Garden party for her dedication to Enterprise.
Later that day, the Business and IP Centre will be one of ten locations across the UK to host a live webcast of the British Library's 'Inspiring Entrepreneurs – Internet Icons' event, with an impressive line-up of entrepreneurs partaking in a panel discussion, including:
Ella Woodward, creator of must-read food blog, deliciouslyella.com, which has taken the cookery world by storm since its launch in 2013
Aron Gelbard, co-founder of Bloom and Wild, online and mobile flower gifting service that makes it possible to order flowers in under a minute, with through-the-letterbox delivery that means receiving flowers is as easy as receiving a letter
Rupert Hunt, founder of SpareRoom, the UK's busiest flat and houseshare website which boasts over 2 million visitors every month
Sarah Wood, co-founder and CEO of video ad tech company Unruly, delivering the most awesome social video campaigns on the planet
The free session will be live streamed from the British Library where the online entrepreneurs will share insight into their own personal successes in business.
The Business and IP Centre, which is part of Exeter Library and run by Libraries Unlimited, the social enterprise and charity which runs all of Devon's libraries, offers business owners, entrepreneurs and inventors the space and resources to develop ideas and receive professional advice.
Charlotte Collyer, Enterprise Manager at Exeter's Business and IP Centre said: "These events are just a snapshot of the range of seminars, one-to-one sessions and information the Business and IP Centre makes available to local business people.
"The Business and IP Centre is designed to support smaller businesses by providing free information and advice on best practice, on everything from trademarks to marketing which they may otherwise have to pay for. These sessions in particular will focus on entrepreneurship and business growth and will hopefully impart wisdom which will inspire business owners."
As a Business and IP Centre, the library follows a programme and ethos developed by the Business and Intellectual Property Centre at the British Library, London, providing support to business owners, entrepreneurs and inventors.
The Centre provides access to a comprehensive collection of online databases and publications, practical workshops, one-to-one advice sessions and inspiring talks. The trained business champion team, working alongside industry experts, are on-hand to provide guidance and information on a range of business issues.
Details of February 7th events:
'Go from zero to sales hero with the four pillars of selling' with Alison Edgar 16.30-17.00 in Meeting Room 1 at Exeter Library – tickets are £20 and are available online here or from Exeter Library.
Live webcast 'Inspiring Entrepreneurs – Internet Icons' 18.30 – 20.30 in Exeter Library's Rougemont Room, free entry but registration is necessary. Register online here.