BBC launches new Weather Watchers Guide at Exeter Library
Posted on 11 Aug 2017
The BBC has launched a new guide for BBC Weather Watchers in partnership with independent think tank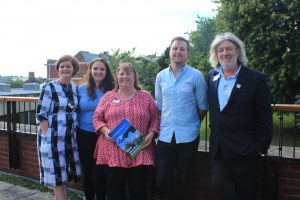 Doteveryone and Devon-based charity Libraries Unlimited.
At a launch event held at Exeter Library on Thursday 10th August, Bill Thompson and Olivia Lockyer from the BBC's Make it Digital team unveiled a sixteen-page printed guide, Getting online with Weather Watchers, designed to help people feel more confident about using digital technology.
The new guide is being distributed across the UK via public libraries, where many people go to get online and to develop their digital skills. Guests at the event at Exeter Library were given some of the first copies of the guide and it will now be distributed to all 50 Devon Libraries across the rest of the county, and to libraries across the UK.
The BBC Make it Digital team first launched Weather Watchers, an online crowd-sourced weather club, in November 2015. Members share photographs and other weather data on a trusted BBC platform, and Weather Watchers pictures are used across BBC television both locally and nationally.
Bill Thompson and Olivia Lockyer from the BBC appeared at the event alongside a number of local Weather Watchers, who discussed their experiences capturing weather information, taking photos and sharing them with the world.
Olivia said: "Weather Watchers is a great example of how the BBC can engage with our audiences, and has been a path to greater digital confidence for thousands of people. We hope this new guide will encourage even more people to sign up, and that librarians will find it helpful in their important work of developing the digital skills of their users."
Ciara Eastell, Chief Executive of Libraries Unlimited and Julie Dent, Chair of the Board of Trustees also spoke at the event. Ciara said: "Libraries are a natural partner for the Weather Watchers initiative. Partly because everyone likes to talk about the weather and it's something that is discussed regularly in our libraries, but also because we know that helping people to develop and enhance their digital skills and providing free or low cost access to technology is an increasingly important part of what libraries do."
She continued: "From our free PCs, devices and WiFi that are available to use in all Devon Libraries, to our 3D scanners, 3D printers and design software available in our two FabLabs, digital technology has become part of our core offering. Our libraries across Devon are home to over 459 devices, and last year we had almost 400,000 sessions on our public WiFi. Every day, our libraries offer help, advice and support on using digital tools, as well as providing access to equipment. We are thrilled to be a part of this initiative and look forward to welcoming Weather Watchers, old and new, into our libraries."
Guests at the event were shown a new set of online explainers, developed by the team at Doteveryone, to show what goes on behind the scenes when Weather Watchers submit their reports.
In addition, staff from Exeter Library were on hand to showcase and discuss a number of rare weather related books from the library's reserve collection, and FabLab Devon ran demos using the 3D scanner, 3D printer and the embroidery machinery available for use in the public maker space.
Click here to download a copy of the new Weather Watchers guide or visit your local library where staff will be on hand to help and support you to get confident with digital technology.