Barnstaple Work Club Launch
Posted on 07 Oct 2019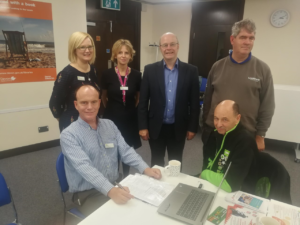 The Barnstaple Library Work Club launched last week. The Club is based on the success of the Bideford Library Work Club, set up in May 2018 by a group of partner organisations, including LiveWest, Libraries Unlimited, Learn Devon, TTVS, PLUSS, Positive People, JCP, Alabare, CSW.
By the end of August 2019, 220 people have benefitted from the service in Bideford. Of those people, more than 50 have been helped into employment, and many more have entered training, attended mock interviews, had CVs updated, expanded and updated their digital skills and much more.
Based on this success we decided to expand and offer services to Barnstaple and the towns and rural communities of North Devon. The official launch of Barnstaple Work Club took place on Tuesday 1st October at Barnstaple Library.
We, and our partners, were delighted by the enthusiastic response from the people of Barnstaple.  We were also delighted to have Councillor Robbie Mack and Councillor Frank Biederman, the Chairman of North Devon Council present, pledging their support for this service.
Cllr Robbie Mack said: "Long-term unemployment can take a real hit to a person's sense of self, but everybody has something to offer. I am so glad to see this hand UP being offered now when it is more needed than ever. Initiatives like the Barnstaple Work Club help people discover all they can be."
Cllr Frank Biederman commented: "It was a great pleasure to attend and meet all the partners involved in the Work Club, I would encourage anyone looking to find a job, upskilling or a change of career to pop in and take advantage of this excellent free service."
Guy Braga, Community Connector from LiveWest Housing said: "We are proud to have been one of the key funders of the Work Club since its inception in Bideford over a year ago and now to be helping with its establishment in Barnstaple. I would like to highlight that these Work Clubs are not just for people wishing to get into work but is open to anyone of any age and employment status to come and visit."
Jude Jeal, Barnstaple Library Centre Manager said: "The launch had a real buzz and great community and partnership feeling. I am so pleased the library is the venue for the Work Club in Barnstaple as it is the ideal place to bring all these partners and people together."
Peter Heaton-Jones MP joined us later in the week and said, "I was delighted to meet Iain earlier this year when the ambition to launch the Barnstaple Work Club was still in its infancy. It was a real pleasure to have visited Barnstaple Library on Friday and see the Club up and running.
He continued "Already the team are doing fantastic work, giving practical advice to job-seekers and importantly helping to boost their confidence when it comes to the application and interview process.  I know the Club will make a real difference to so many people, and I'll continue to support it.
"I'm also really pleased that the Club has found a home at Barnstaple Library – it's a perfect example of how our libraries can really be a hub for so much good work in the community".
At the launch we welcomed people who came along to see what the Work Club has to offer. We believe that collaboration is essential to reduce barriers and support people to live positive, happy lives. Community collaboration works, come along and see if it works for you!
Barnstaple Work Club is open every Tuesday in the IT suite of Barnstaple Library. From 10.00am-13.00pm. (Bideford Work Club is open Wednesdays 10.00-13.00pm in Bideford Library).  It is a drop-in service and we offer free, friendly, independent advice.
For more information visit devonlibraries.org.uk or visit Barnstaple library.