Barnstaple Library Young Volunteer of the Year!
Posted on 20 Jun 2017
Blog by Jude Jeal, on behalf of all staff at Barnstaple Library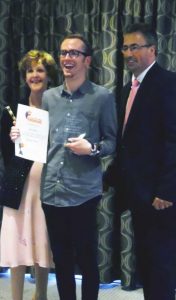 As part of Volunteers' Week, North Devon Voluntary Services (NDVS) held a celebration evening at the Cedars Hotel in Barnstaple in recognition of the work and support that volunteers provide to organisations and services across North Devon.
At Barnstaple Library, we have a number of fantastic volunteers who dedicate their time to helping and supporting people of all ages with a variety of different tasks.
We appreciate the hard-work that our volunteers put in, and the extra time it gives us Librarians to keep on top of all the events and activities taking place.
To show our thanks and appreciation, we nominated some of our volunteers for recognition at this year's ceremony, and were pleased that amongst all the certificates and awards, one very special volunteer received the award of the night.
Jack Ireland, who has been volunteering with us for two years, was named Young Volunteer of the Year. Jack works primarily in the children's' library assisting children and their families.  He is quite a character and likes to sing!  Not only is he very vocal during our Baby Bounce and Rhyme sessions but he also assists with the Library Sing-Along sessions, to which a very mixed group of adults attend.
He is always happy and willing to dress up, be it a rabbit, a dinosaur or a Christmas Elf costume (to name but a few of the costumes he has adorned!).  Jack is also a very proactive member of the Barnstaple Library Friends Group, and his dedication and commitment doesn't go unnoticed. Recently, children's author Claire Barker, emailed us the following testimonial regarding Jack's passion for the Library.
"Jack Ireland is a delightful young man. I've had the pleasure of knowing him for a long time, having met him first as a primary school pupil. A fan of my writing, he made special efforts to let me know that my work was appreciated. Then as now I am impressed by his general enthusiasm, his devotion to the library community and his genuine interest in other people. Most importantly he seems to be someone who is a true team player. He would be an asset to any organisation that was wise enough to see his potential."
And Jack wasn't the only one to receive recognition! Julia was also commended for her volunteering work at the Library. Julia has been a volunteer at Barnstaple Library for many years and keeps our books looking pristine by re-jacketing them when they look a little tired. She also checks that audio books are complete after they are returned to the library and collates the welcome packs so new customers have all the information they need about the library services we offer.  As well as that she makes us laugh with her jokes and has a wicked sense of humour.
In addition, our BFGs – the Barnstaple Friends Group, won an award for the support they provide to our library. During their first year of operation the BFGs have been amazing in helping to raise the profile of Barnstaple Library, raise funds to purchase equipment and supporting our events.
Thank you to all of our wonderful volunteers!
If you are interested in volunteering at one of our libraries, you can find out more about how to get involved here.