Bampton residents celebrate opening of new library
Posted on 06 Apr 2017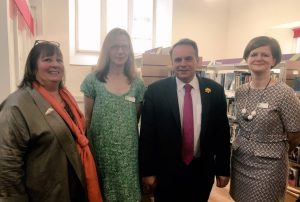 Bampton residents and library staff were joined by Julie Dent CBE, Chair of Libraries Unlimited and local MP for Tiverton and Honiton Neil Parish, as they celebrated the successful relocation and official opening of the new Bampton Library on Thursday 6th April.
The library moved into its new, spacious and bright location within the Library and Resource Centre, Old Schoolroom, Bampton last month.
Libraries Unlimited and the Library and Resource Centre Supporters (LARCS) provided refreshments as guests were invited to take a look around the new facilities and hear speeches from Julie Dent, Chair of the Board of trustees for Libraries Unlimited, as well as Neil Parish MP.
Following the move to the new building, Libraries Unlimited have been able to extend the Library's opening hours. The Library will now be open for an extra hour every Thursday, opening at the earlier time of 9.30am and closing at 12.30pm, giving library users an additional sixty minutes to browse the shelves and make full use of the facilities available.
Julie Dent, Chair of the Board of trustees at Libraries Unlimited, the charity responsible for the running of Devon's Library services, said: "It's a privilege to be here today and see this library so full of life, and people of all ages enjoying this fantastic new building. It's our aim to ensure that communities throughout Devon continue to benefit from the important services that libraries have to offer. Bampton Library today is a great example of how libraries can act as place to inspire creativity and imagination, as well as providing space to read, learn and enjoy books and information."
As well as retaining all of its previous services, including the loaning of a wide range of books, audiobooks and DVDs and computer and internet access, the newly refurbished Old Schoolroom also provides space for community events.
Ciara Eastell, Chief Executive of Libraries Unlimited said: "It's exciting to see Bampton Library open in its new and improved home, and so many of the local residents and library users enjoying the space. This new library is the result of a very successful partnership between Libraries Unlimited, LARCS and the local community. Working together, we have been able to deliver an improved library service designed to meet the needs of its users. Everyone has worked extremely hard to make this library a reality and it's a real pleasure to see everyone enjoying it."
LARCS was formed in order to raise funds for the refurbishment of the Old Schoolroom to house the library. The final amount was raised in March last year through a grant from Power to Change, funded by Big Lottery, and work started on the building in April 2016.
Les Hartley, Chair of LARCS, said: "It is fantastic to see the new library open and the people of Bampton enjoying the new space. The Centre has already been well used since it opened, and will no doubt bring in plenty more people from the local community now that the library is up and running. It's a very exciting time for all involved, and we look forward to a continued partnership with Libraries Unlimited and the opportunities that lie ahead."
Bampton is the second community in Devon to benefit from a new library this year. Libraries Unlimited recently opened the new Ottery St Mary Library, which provides the community with a modern, spacious and accessible new Library in the centre of the town.