An Apple Day keeps the autumn blues away
Posted on 13 Oct 2023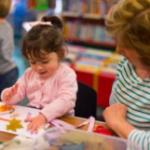 A chance to welcome autumn and have fun with art and creativity is being served up at Barnstaple Library with its Apple Day event later this month (Saturday 21st October).
The fun-filled day will feature art workshops, dance and film, all on a traditional apple theme. Most of the events are free, and many are aimed at families.
The event is part of the 'Get Creating' summer/autumn season of events running across all libraries, funded by Arts Council England
Jane Petch, Library Supervisor at Barnstaple Library, said: "It's been great fun to put together all these events on an apple theme! We did it with our Flower Power Day back in July, which was a great success. This time around we were inspired by the story of Isaac Newton, and that moment an idea is sparked in the library like when an apple lands on your head."
"Most of these events are for free or a donation. We really want to make them available to in particular to families in the community who are a bit worried about the cost of living this winter and are looking for something to entertain the children that doesn't cost money or are low cost. But there's definitely something for everyone on offer. And who doesn't love autumn and apples!"
Apple Day will take place at Barnstaple Library, Tuly Street, Barnstaple EX311EL on Saturday 21st October (between 10am and 4pm).
Events will include:
10am – 11.30 and 12.30 – 2pm
What goes up must come down
With award-winning CIC Sciencedipity explore gravity with hands-on experiments. Children take home what they make.
Ages 4 – 7 accompanied by an adult
£5 per child
10 – 11am
Interactive story time
With local artist Sophie Cobb whose work is inspired by local folk and fairy tales. Sophie will share her story 'Secrets of the beech tree' using art and props.
Event in the children's library and under the Reading Tree.
Pay what you can.
10am – 12noon or 1 – 3pm
Make a cardboard birdhouse with James Lake
Let your imagination run wild and create a cardboard sculpture with James Lake, the artist who created the Reading Tree in Barnstaple Library.
For ages 8 and upwards. Tickets £5.
11am – 1pm
Art Workshop
With artists Jo and Kash from Gerkin Blue CIC.
Free drop in event for all ages and abilities.
11am – 12noon
Straw and Oak
A 20 minute film by Bill Bradshaw showing traditional cider making at Sandfords Orchard using straw and an old oak press.
Free screenings between 11am and 12pm.
2 – 4pm
Morris dancing
Traditional and join in dancing with Borderline Morris Dancers in the Library Square.
Free.
2 – 4pm
Apple day craft activity and Lego
Free fun and creativity for children of all ages in the foyer of the children's library.
For more information and booking details go to: librariesevolve.org.uk