A new lease of life for Braunton's Children's Library
Posted on 28 Jan 2019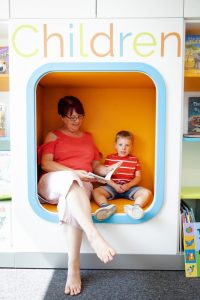 Braunton Library's children's area is set for a new lease of life thanks to a legacy donation left by a regular library user and fundraising efforts by the Friends of Braunton Library.
The popular children's library will undergo a full refurbishment, featuring a bright and vibrant makeover of the space, new shelving units designed for comfort and ease of browsing and clever built-in storage facilities. New seating for children and parents will create a welcoming space, complete with a reading seat big enough for two within the story wall. The costs of the work have been fully covered by the generous donation from a former library user, left in her will.
To complete the new look The Friends of Braunton Library have purchased new furniture, including portable storage for books and table and chairs for activities.
Libraries Unlimited, the charity that runs all 50 of Devon's libraries, will be carrying out the refurbishment. To complete the work, the children's library will be closed from Monday 28th January and will reopen to the public on Monday 11th February. The main library will remain open during the two-week refurbishment period; however Library Extra sessions and some events will also be postponed during this time.
Sarah Bushell, Library Supervisor at Braunton Library said; "We're so excited that our children's library is going to be a much more bright and welcoming place for children and families to enjoy. The children's area is always incredibly busy and buzzing with the sound of young people enjoying events and activities and reading. We were honoured and touched when we learnt of the legacy donation from one of our former regular users. She loved the library and wanted future generations to continue to benefit from a high-quality library service. Our Friends Group have been incredibly supportive and have gone above and beyond with their fundraising efforts, we're all really grateful."
Tabitha Witherick, Service Delivery Manager at Libraries Unlimited said: "It's fantastic that a local community has got behind their library, to see it prosper for people to enjoy for years to come. We're really looking forward to seeing the works carried out and welcoming families into the library to make the most of these new facilities. As a charity, we welcome donations and gifts to help us deliver additional services and improvements to our libraries. We couldn't have done this without our active Friends Group and would like to thank them for their fantastic fundraising work and continued support. Research has shown that reading from a young age helps to improve people's life chances, and we've no doubt this new library space will be the perfect place for children and young people to get lost in a wonderful world of imagination and creativity."
Those looking for a children's library to visit during the refurbishment period can visit nearby Barnstaple Library or visit devonlibraries.org.uk to see a full list of libraries throughout Devon.