A Good Age – Change in my time
Posted on 26 Feb 2019

Guest blog by: Philippa de Burlet, Education Manager at  Devon Guild of Craftsmen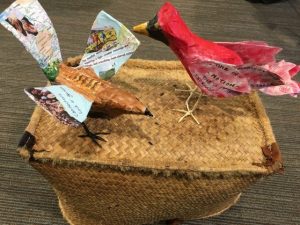 The 'A Good Age' project is about creativity and age. Recent research carried out by Age UK shows that an essential part of remaining active and positive in old age is to lead a life that encompasses social and creative activity.
Using five Devon Libraries as the locations, Devon Guild of Craftsmen (DGoC) and Libraries Unlimited are running a series of artist-led workshops for older people. The workshops are taking place in Crediton, Tiverton, Cullompton, Honiton and Exeter Libraries and are running for three 'terms' which allows for development and progress with the work being made. At the end of the series of workshops, the artwork produced will be exhibited in the respective libraries where it was made. Work made in the libraries includes, paper, ceramics, photography, willow, and mixed media.
Devon Guild of Craftsmen and Libraries Unlimited has commissioned five, UK based, professional older artists (born before 1948) to make new contemporary craft work responding to a theme of age and change within the artist's lifetime. The commissioned pieces will be shown alongside the work made in the library workshops, in a celebratory exhibition A Good Age at Devon Guild of Craftsmen in autumn 2019.
Sheri, one of the project participants said: "It is amazing to be given the chance to learn these skills as I was never allowed to do things like this in school. it is like being given a new lease of life."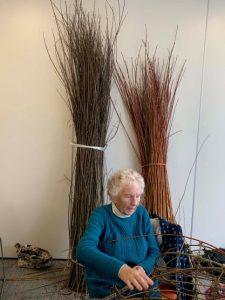 Our commissioned artists and the workshop participants are working with the same overall theme which is 'Change in my Time'.
Our five commissioned artists are; Dave King, Elizabeth Turrell, Hugh Ribbans, Ian Gregory and Keith Gretton.
Our five library workshop leaders are; Elizabeth Jardine, Stefan Jennings, Charlotte Turner, Kate Green and Mandy Biscoe.
The library exhibitions will take place in June and July 2019
The final exhibition of the commissioned artists work and the group works will take 21 September – 3 November 2019 in the Jubilee gallery, Devon Guild of Craftsmen.
Images: Above, Paper birds – Exeter workshop. Right, Willow – Cullompton workshops.