75th anniversary of VE Day – Friday 8th May
Posted on 05 May 2020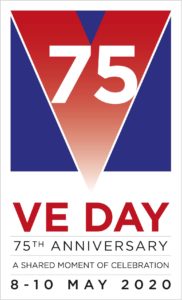 When VE Day dawns on 8th May 2020 it will be 75 years since the guns fell silent at the end of the war in Europe.  This 75th anniversary is an opportunity to reflect on the enormous sacrifice, courage and determination of people from all walks of life who saw us through this time in history.  VE Day is a celebration of peace and reconciliation.
With the current situation, VE Day will be marked in a different way.  Many community celebrations and national events due to take place this bank holiday weekend (Friday 8th to Sunday 10th May) have either been cancelled or postponed.
There are plenty of ways that we can all get involved and mark this day including events and activities we can do at home and by connecting online.  You can share your Second World War stories, families' histories and messages of remembrance on social media, using #VEDay75 to join the conversation.
We have curated a VE Day book collection and have selected online resources for you to explore.  Please visit our individual library social media accounts to join online events and activities.
Here are the links to our VE Day online resources:
A digital VE day book collection can be found here.
Commemorate VE Day 75 by finding your family's WWII stories and trace family members.  Access Ancestry Library Edition for free from the comfort of your own home.  Access for free using your library membership and if you are not currently a member join at Devon Libraries or Torbay Libraries to get immediate access.  Home access is available until the end of May and will be re-evaluated monthly as needed.
Songs and music of WWII – Listen to classical and popular music of the era for free using your library membership.  Access the Naxo Music Library online and listen to the extensive range of music including standard and rare tracks.
Oxford Dictionary of National Biography – Discover the lives of those that played valuable roles during WWII and access records of those that created detailed accounts during the second world war.   Access now using your library membership.
Research WWII using Oxford Reference Online –  Access this large online reference library of subject dictionaries, encyclopedias and companion guides published by Oxford University Press.  Access online using your library membership.
Discover Very Short Introductions with your library card – Very Short Introductions are the perfect way to become more expert in a new subject, fast.  The collection includes Twentieth Century Britain and the Second World War.  Access online using your library membership.
Here are links to a selection of websites providing VE Day resources:
Exeter City Council is inviting you to join them for a Picnic in your Parlour to bring everyone together virtually to celebrate VE Day 75.  Visit this link for fun recipes, activities and World War II facts.
The government has published a toolkit of resources  including bunting and posters that you can print and display at home in your windows.
You could take part in celebrations safely from home by joining BBC Radio Devon in making your own VE Day Great British Bunting. Download everything you need at bbc.co.uk/greatbritishbunting.
English Heritage has a pack to help you put together your own celebrations to mark the anniversary from home.
For school children, historian and presenter Dan Snow has set you a creative challenge to research what VE Day is all about.
Please stay home and stay safe.