#LoveLibraries – Celebrating our libraries and the people we serve
Posted on 19 Jul 2018
At Libraries Unlimited we are incredibly proud of the difference we make to people's lives on a daily basis. From buzzing bounce and rhyme sessions where parents and carers come together with their little ones, one to one IT sessions for those that aren't confident with technology, creative workshops for children and young people to inspire and support their learning, to the thousands of people that walk through our doors each day to simply browse our bookshelves, spend some quiet time or delve into our resources to carry out their own research.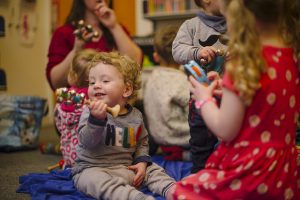 All of our libraries, large and small, offer a variety of services that meet the varying needs of the communities of Devon and Torbay. Our team of over 350 staff work hard to provide support and encouragement to those who visit. They greet people with warm, friendly smiles, with knowledge and professionalism.
As a charity, everything we do is focused on our core mission, to bring ideas, imagination, information, knowledge and creativity to people's lives and all of our staff and volunteers, from customer service assistants to the senior management team and our trustees, are absolutely committed to our cause.
We recently conducted our first user and non-user survey, designed to help us understand how the people of Devon and Torbay feel about their local library. We wanted to hear the views of our 136,000 active library users, to get to the heart of what makes libraries so special and why our buildings attracted 2.7 million visits last year.
The survey ran throughout May and June this year and reached over 1,500 participants. The results show that 93% of library users are satisfied with the library services they receive. This includes 47% who said they are extremely satisfied and 31% very satisfied. The key drivers of satisfaction include customer service, good staff, the selection of books and ease of use.
We asked our users to rate our services in more detail too, and 89% of users said our range of services was good or above, and staff knowledge and helpfulness achieved a 93% rating. In addition, 90% of respondents rated the quality of our services as good or above, and 88% for the environment and ambience of our buildings, with a 92% positive overall experience in our libraries. In addition, we achieved a Net Promotors Score of 84 (an index ranging from -100 to 100 that measures the willingness of customers to recommend a company's products or services to others), this is higher than the national average of 77.9, the average for public services nationally (75.8) and the average for public services locally (75.4) *source: Institute of Customer Service: UK Customer Satisfaction Index, July 2018.
Libraries are seen as 'extremely' important by three quarters of users, largely because the library is considered a community hub and it offers important services to those in society that may otherwise go without, and 98% of users said they value the services offered by libraries. The main reason that people visit our libraries is to access books. However, users tend to visit for more than one reason, with the other most popular services being free WiFi, DVDs, computers, printing and photocopying and newspapers and magazines, all used by 1 in 3 people.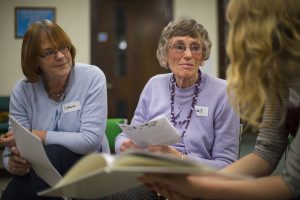 We also asked our users what other services they would like to see in their libraries, and how they would like to hear about activities, events and services on offer. We'll be looking into these results to help shape our offering over the next year, and will also be comparing our user results with non-user results and conducting some focus groups and interviews to delve even deeper into understanding how people feel about libraries.
Libraries, along with many other sectors including high street retailers and tourist attractions, are feeling the effects of a more digital society. People are changing their behaviours. Community needs are evolving. Libraries across the country have recognised that they need to adapt and change too in order to remain relevant in the 21st Century, and at Libraries Unlimited we are recognised as one of the sector leaders by introducing new approaches to sustainable library services as a public service mutual.
As well as investing in new and innovative library services, we continue to invest in our staff, offering training and development opportunities and hosting annual events such as our staff conference. At a time of austerity, when local authorities across the UK are reducing their budgets, we are proud that, working closely with Devon and Torbay Councils, we have not closed a single library, and that each one is run and managed by paid and experienced members of staff.
At Libraries Unlimited we continue to focus on what we believe is most important, and that is the people and communities that we serve. Our frontline staff remain professional, dedicated and friendly, welcoming people of all ages and abilities into our spaces. Our managers continue to look for new and exciting ways of engaging with new audiences, and we all have an important role to play in promoting and encouraging a love of reading. Our trustees set the overarching vision and strategy for the organisation and play their part, working alongside the Chief Executive and senior team, in ensuring our organisation and the library services we deliver remain sustainable and accessible for the communities we serve. We are always keen to talk about what we're doing, and welcome the opportunity to meet with people to discuss their views and ideas about libraries and how they evolve to meet local needs.
We believe that what libraries need is positivity. They need the people that love and value libraries to help spread the word about what it is that makes them special, and for people to work together to raise awareness of the excellent community resources that libraries provide. Whilst we are doing all we can to encourage more people to use our services, we will reach even more people if we can collaborate and support libraries by taking a united approach.
As we continue to deliver library services focussed on our six core purposes, we invite the people of Devon and Torbay to visit their libraries and see for themselves the diverse and high-quality services on offer.
Join the conversation #LoveLibraries